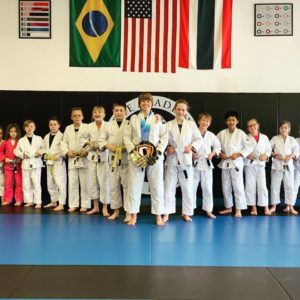 Welcome To The Academy Elk River
We are part of the #1 Martial Arts Program in the Midwest! From UFC Champions to Senior Citizen Black Belts to ADHD kids our programs get results. We are committed to helping our clients reach their goals and beyond. There is no time like the present to change your life!
"Dedicated to the Creative and Hard Working Individual
and to the Integrity of the Combative Martial Arts"
Our Vision
TOP QUALITY INSTRUCTION
We will provide the best instruction, always striving to exceed our students' expectations. To do so, we will provide knowledgeable and experienced instructors that are completely dedicated to the advancement and growth of every student that commits to our program.
STATE-OF-THE-ART TRAINING
We will use only the safest and most effective training methods available to instruct our students. We will, through constant research and adjustment, continue to offer the highest quality of training in every aspect of technical development. We will also make a variety of equipment available to our students to further enhance their training, accompanied by the appropriate instruction to ensure safe and proper use.
STUDENT-FIRST PHILOSOPHY
We will passionately pursue a "student-first" philosophy, making sure that every student is trained and developed to their full potential. Our goal is to offer the very best martial arts education and training facility available. Our success is measured by our students' development: technically, physically, and mentally. We will not put a cloud of smoke in your face – development takes your consistent training and dedication to honest, hard work, but we promise to be there to push you when you need pushing, to pull you when you need pulling. Ultimately, true martial arts development starts and ends with YOU, "the creative and hard-working individual."
INTEGRITY OF THE COMBATIVE MARTIAL ARTS
We will continue to research, develop, and share the techniques, training methods, combative strategies, and concepts of the world's most effective martial arts. Our programs will adhere to our core, no-nonsense approach to the training and application of combative martial arts. This ensures that you will learn real self-defense skills and achieve your total fitness goals in a smart, safe, yet still intensive environment. Maintaining our dedication to integrity, every student is offered the opportunity to test their skills if they desire. Our students may compete in Muay Thai, Jiu-Jitsu, Submission Wrestling, and 'No Holds Barred,' once they demonstrate the necessary skills and commitment to their training.
Every committed member of The Academy is part of the Team. We understand that "The strength of the Wolf is in the Pack, and the strength of the Pack is in the Wolf." We believe that as you improve, the Academy itself also improves. Our success is determined by the quality of our students – The Academy cannot exist without you and your fellow students. With this in mind, we are determined to do our best to ensure your continual progress. It is our goal to maintain The Academy's reputation as one of the most technical and most training-intensive schools in the nation! We will go to any length, as instructors, as coaches, as guides, to help you achieve your goals and become a strong member of the Team.
CMTF North American Muay Thai Champion

Extreme Challenge MMA Champion

Upper Midwest Regional Golden Gloves Champion

BJJ Black Belt under Coach Greg Nelson


Greater Midwest Submission Hunt Champion

Certified Kru under Ajarn Greg Nelson
Head Coach Adam Ahern has over 20 Years coaching, competing, & practicing a variety of martial arts disciplines. He began his training under Sifu Rick Faye and Ajarn Greg Nelson, where he continues to this day. He is highly passionate about helping all of his students achieve their personal best. Whether it be developing inner peace, losing weight, stress relief, or competition – Coach Adam will help you get there.