Brazilian Jujitsu – BJJ, Grappling, Judo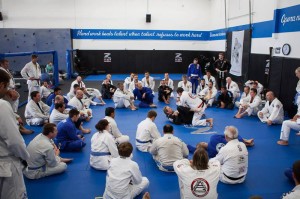 Right here in Elk River, people are discovering the secrets of one of the world's most proven and effective ground-fighting and self-defense martial art: Brazilian Jiu-Jitsu
You'll be able to get a great workout and learn crucial self defense and life-saving grappling techniques while not having to worry about getting injured (safety is our #1 priority)

You'll be training in a safe, structured environment

You'll experience the mental and physical rush of BJJ training as you learn techniques that you'll be able to apply on an attacker or opponent in a real live scenario

You'll have inside access to all our professional instructors who are trained to "build you up" as a student

You'll get stronger, get tougher, you'll improve your endurance and stamina along with your cardio and breathing not to mention looking better and feeling better (after training with us for less than 30 days we are sure your friends will be asking you what you've been up to)

You'll get exceptional service (We pride ourselves on the value we give to our students. If you have a question about anything at all, we will answer it. If you have any problems, we'll solve them. If you need help, we will help you. We are 100% committed to your personal development as a mixed martial arts athlete.)

You'll be part of a team where coaches and instructors CARE about you and your success
We are proud to Represent Minnesota's most winning and #1 Jiu Jitsu Team! – Team Academy. Under the direction of Professor Greg Nelson our program is technically sound and safe for beginner though advanced students. You may have heard that if you can't defend yourself on the ground, you can't defend yourself, or that 90% of fights end up on the ground.  We believe in creating a complete system of self-defense & self improvement. Training in a slippery icey climate like MN, you must have a solid understanding of ground based defense. Even our country's military uses this system to train our soldiers in hand to hand combat.
Let's face it. If Brazilian Jiu-Jitsu is a "must-know" thing for profession mixed martial arts fighters like the guys fighting in the UFC (Ultimate Fighting Championship) these days, it should most definitely be a "must-know" for pretty much anyone.
That's because the "fight-ending submissions" and "fight-controlling positions" of Brazilian Jiu-Jitsu have been battle-tested in combat, in a cage, in a ring and on the street.
"You Don't Have To Be A Fighter To Enjoy Brazilian Jiu-Jitsu"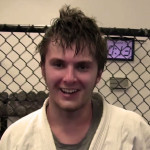 "I go to the Academy Elk River and I do Jiu-Jitsu because it's fun! " – Ryan
It doesn't matter if you're older or young, if you're big and looking to lose weight or small and looking to build strength… it doesn't matter if you're male or female… or even if you want to compete or not (and in our program, you don't need to want to compete; most people who want to try BJJ aren't interested in competition)… in shape or out of shape, ALL are welcome…
As a matter of fact, there are all kinds of people from right here in Elk River discovering the benefits of Brazilian Jiu-Jitsu (BJJ) training at The Academy Elk River, and if you haven't checked it out for yourself yet, then, well, you're missing out big time.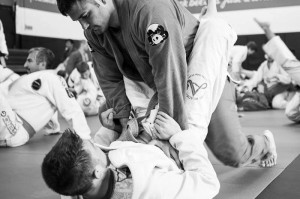 Because while BJJ will teach you how to defend yourself once a fight gets in the grappling range or on the ground, it also gets you in great shape, builds strength and flexibility, and is pretty darn fun, too.
taught by our trained instructors to continually get better each and every time you step on our mats… and not only that, you'll have coaches and teammates helping you along the way. So if you've had a stressful day, you can rest assured your stress levels will be reduced the minute you walk into our academy.
Doesn't Get Boring… In Fact, It's FUN! – Our students are having a ton of fun learning BJJ. Let's face it. Going to a regular gym can be boring, especially when you're going through the same old routine day in and day out. Instead of walking from machine to machine like some kind of zombie, you'll be able to actually learn something that could save your life while at the same time getting in spectacular shape and learning to defend yourself. You'll be constantly learning and applying techniques that could save your life and you'll be doing it in an atmosphere that promotes fun and learning.
WHO Is Brazilian Jiu-Jitsu For?
"BJJ Is For EVERYBODY! Literally, ANYONE Can Do It!"
Here's why…
Since BJJ is based on techniques designed to allow a smaller, weaker person to defeat a bigger, stronger attacker, it doesn't matter how big or small you are. You you're big, no problem. Small, skinny, even if you think your "weak"… it doesn't matter. BJJ techniques can be applied by anyone because it's based on leverage and positioning… and the added benefit is that you'll get stronger, healthier and more fit from the training with us.
You Don't Have To Be Flexible…
You Don't Have To Be Strong…
You Don't Need To Have Previous Athletic Experience…
You Don't Have To Want To Compete…
You Don't Have To Be In Shape…
No matter your age, sex, previous experience (even if you have none at all), whether you're in shape or out of shape, strong or not, no matter what kind of job you have, you're going to absolutely LOVE training BJJ here at The Academy Elk River along with our other happily-involved students.
On top of that, while you're training here, you'll get no pressure to compete. Some of our students compete and many of our students don't – it's all up to you. You won't get any pressure from us. What we do promise you, though, is that we will do everything in our power to help you achieve your goals in BJJ, no matter what they are.
And not only that…
You'll learn "tried and tested" techniques, not unproven-in-combat theoretical stuff that's in a lot of those "other" martial arts

You'll learn submission techniques that end a fight or match quickly and efficiently without things getting "messy"

You'll develop close combat fighting skills can save your life (this is especially important for law enforcement and military)

You'll discover techniques and strategies for self-defense (street fighting) and competition (in the ring, on the mat, or in the cage)

You'll learn brutal chokes, arm locks, leg locks and other ways to finish a fight without have to throw a single punch or kick You'll learn fight-ending submission holds that will make your attacker cry "uncle!" in no time flat

You'll discover how to control and defeat larger attackers who are stronger than you are

You'll transform into a knowledgeable grappler even if you have no previous experience (in fact, many students who visit us for the first time never did sports or martial arts before; they just want to give BJJ a try)

You'll be a part of our team and you'll be treated with respect by our professional, courteous staff (we don't try to intimidate people or show how "tough" we are; we don't need to; it isn't about our "ego" anyway – it's about what we can do for YOU and how we can build you up into the best shape of your life while learning how to grapple in the process)

You'll learn the basic BJJ fundamental principles and techniques you need to have to get to a more advanced level (we'll teach you exactly what you need to know to become a quality grappler)

You'll be able to train and practice at a pace that you can personally absorb and retain all the information you learn in the most effective way possible

You'll be able to get a great workout and learn crucial self defense and life-saving grappling techniques while not having to worry about getting injured (safety is our #1 priority)

You'll be training in a safe, structured environment

You'll experience the mental and physical rush of BJJ training as you learn techniques that you'll be able to apply on an attacker or opponent in a real live scenario

You'll have inside access to all our professional instructors who are trained to "build you up" as a student

You'll get stronger, get tougher, you'll improve your endurance and stamina along with your cardio and breathing not to mention looking better and feeling better (after training with us for less than 30 days we are sure your friends will be asking you what you've been up to)

You'll get exceptional service (We pride ourselves on the value we give to our students. If you have a question about anything at all, we will answer it. If you have any problems, we'll solve them. If you need help, we will help you. We are 100% committed to your personal development as a mixed martial arts athlete.)

You'll be part of a team where coaches and instructors CARE about you and your success
Wouldn't you agree the best way to really see if our BJJ program will meet your needs is to come give it a try for yourself for 30 days absolutely FREE?
Once you call our academy (763-250-4640) and schedule a time that's good for you to come see us, we'll give you a tour of our academy, you'll get a free t-shirt just for stopping by, you'll get a free private introductory lesson and you'll also get a free one-on-one consultation with one of our highly-trained program counselors so we can figure out if we can meet your needs. In fact, we're so confident we can meet your needs with our BJJ program, we offer…
60-Day Money Back Guarantee
We are so confident you'll love our program just as much as our current happily-involved students. So confident, in fact, we are offering a 60-day money-back guarantee. If you participate in our BJJ classes for 60 days and decide that our program is not what you wanted, just tell us and we'll immediately refund your money (but we highly doubt you'll do that). That's how confident we are in the value that you'll get by being a part of our BJJ program.
"If you're thinking about giving our Brazilian Jiu-Jitsu (BJJ) program a try, then this will be the smartest decision you can make for yourself."
Give us a call NOW to start our amazing 30-Day Free Trial Program so you can experience the thrill of MMA training with us! Don't wait. Call us NOW.
763-250-4640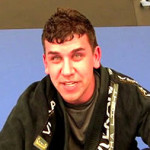 "Probably one of the best decisions I've made. I'm in much better shape, I have much more confidence and over all I feel much better every time I come the Academy Elk River" – Zack