MMA – Mixed Martial Arts
Discover how ANYONE can train and enjoy mixed martial arts… no matter your sex, age, fitness level or experience level… or even if you want to compete or not!
Maybe you've been thinking about taking MMA classes in the Elk River MN Otsego area….
But you've seen it on TV, and wonder if you could actually do MMA?
Well we are here to tell you there is a place you CAN actually learn Mixed Martial Arts in a safe welcoming environment under the watchful eye of competent professional instructors. You will be able to learn MMA skills that really work – in the ring and on the street.
When you train with us, we will spend a considerable amount of time preparing your body and mind. While other schools  might throw you into the cage or ring on your first day (madness!) we actually take a more reasonable approach to your development.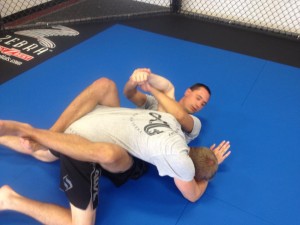 Now, we won't pull your leg – MMA training is tough. You might get a few bumps & bruises along the way. But I can tell you that it's much safer than playing hockey or doing other "Weekend Warrior" activities. If you are interested in just training recreationally – we have a class for that.  AND if you want to train hard and possibly get a  few fights under your belt – we have a class for that too. No matter what your goals or where your level of skill, you can enjoy real MMA training in the Elk River area.
The Academy Elk River has already helped scores of people just like you get in kick-butt shape, impress their friends and family, learn MMA and be a part of the #1 MMA program in Minnesota (whether they wanted to fight or not). Why not find out what MMA training can do for you by giving our proven program a try for 30 days absolutely FREE!
"I'm hoping to bring home my first trophy!"
30-Day Free Trial
We can prove our program up-and-down and give you examples of happily-involved students' success stories (which you'll see below), but wouldn't you agree the best way to really see if our program will meet your needs is to come see for yourself for 30 days absolutely FREE?

You'll get to enjoy our MMA training for 30 days free and, believe it or not, we also have an iron-clad 60-day money-back guarantee that will take all the risk away for you. That's how confident we are in our program and what we can do for you
We know that all kinds of different people want to train MMA. From people who want to get in the cage and duke it out to people who want to experience the rush of training like a fighter without getting punched in the face. We train competitive MMA fighters and we also train people who want to train for the fun of it without getting into the competitive side.
That's why we offer our initial consultation along with our 30-day free trial. When you see us for the first time, we can sit down with you and really get into your specific, personal needs in order to figure out what would be the best program for you.
Many of our students come to us already knowing exactly what they want to do. But most of them tell us they just want to "give it a try" and see how they like MMA training. Our instructors and program counselors will help you make a well-informed decision so you can rest assured you're doing the right thing for yourself.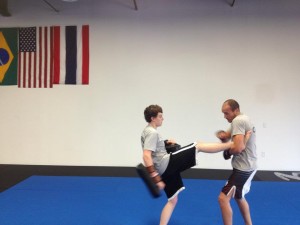 Here's just some of what you'll get out of our proven-successful mixed martial arts (MMA) program:
You'll experience the mental and physical "rush" that comes with MMA training (not only is it exciting, but it's a whole lot of FUN too!)

 You'll get into kick-butt shape – and FAST (many of the world's strongest and best-conditioned athletes are MMA fighters – we'll show you how they do it)

You'll develop "functional muscles" not bulky do-nothing muscles (you'll become a lean, mean, fighting machine and get even STRONGER than you were before – even if you're a weight lifter – because you'll build functional muscles by doing "sport-specific" exercises and drills that make you "fighting strong")

You'll learn a mixed martial arts fighting system with an organized curriculum that takes the "guess work" out of learning

 You'll learn the basic fundamental principles and techniques you need to have in order to improve as quickly as possible

You'll be in a safe, structured environment – safety is our #1 concern –  so you won't have to worry about getting injured (you won't even have to spar or get hit if you don't want to)

You'll be able to work at a pace that's right for you so that you can personally absorb and retain all the information you learn

You'll be taught by professional instructors who are trained to "build you up" as a student

You'll discover strength and conditioning exercises and MMA drills that UFC fighters use to prepare get in shape for their fights

You'll be a part of a proven MMA system that gives you maximum results in minimum time (we are committed to making sure you improve every single time you set foot in our MMA academy)

 You will transform your body into a kick-butt fighting machine (you'll feel stronger, faster, and better than you ever have before)

Our instructors will "walk you by the hand" and teach you our secrets to MMA success
You'll get to train in our state-of-the-art facility, complete with:
Fully Matted Training Facility
Cage Fence Panels for cage work
Heavy bags and speed bags
Over 2000 square feet of mat space!
Strength and conditioning equipment
Showers
Kids Play Area